Anualmente decorre no rio Tamisa em Londres a "
the Boat Race
". É uma corrida de 6.8Km de
Putney
a
Mortlake
(em West London) entre os clubes de remo das Universidades de Oxford e Cambridge. É uma desculpa (como se os Londrinos precisassem disso) para irem todos bem ao início da tarde para os pubs junto ao rio beber uns canecos. Lembro-me que a primeira vez que vim a Londres também calhou nesta altura (fim-de-semana de Páscoa) e que também acabei em pubs que tinham decoração alusiva à corrida mas onde ninguém estava interessado na corrida (até numa das salas estava a decorrer uma festa de boas vindas de soldados do Iraque).
Mesmo tendo vontade de ver (nem que seja uma vez) nunca me consegui convencer para ficar umas horas a espera de 5 segundos de corrida.
Mas este ano foi diferente. No passado 7 de Abril fez-se história em vez de tradição. Pela primeira vez em 157 confrontos (desde 1829) a corrida foi interrompida. Soo o alarme de alguém a nadar nas águas, mesmo a tempo de evitarem um acidente. À velocidade que eles vão e com a quantidade de barcos que os perseguem não acredito que ele saísse ileso.
Quando vi as imagens na bbcnews (ainda antes de confirmarem
o que se tinha passado
) pensei "como é possível alguém não reparar que vai haver uma corrida naquele local e naquele dia?" (notícias por todo o lado) e "com tanto sítio para nadar, porque raio foi nadar no rio mais poluído!?". Nunca me passou pela cabeça que ele fosse de facto estar a protestar contra...wait for it... "O Elitismo".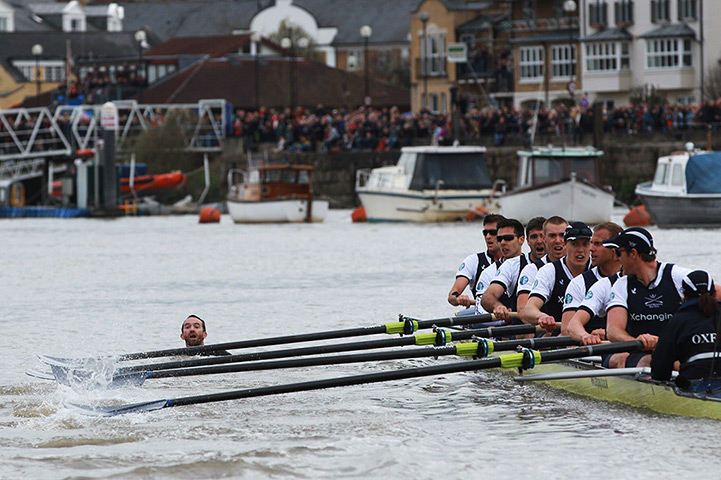 O senhor que podem ver acima é Trenton Oldfield, 35 anos e activista nas horas vagas. No
seu blog
pode ler-se que "o elitismo leva à tirania" e é contra o elitismo que luta. Não tive paciência para ler o artigo todo mas nele ele incita a "civil disobedience" com "little war /guerrilla tactics" entre as quais:
. Setting off Fire Alarms in buildings where we work, perhaps at strategic times, when a particular meeting is meant to happen that will agree the cutting of services, for example?
· If you are a taxi driver can you take the passenger the slowest possible and most expensive route?
· If you are a plumber can you 'store up' a problem in the office of a conservative think tank office you have been called to?
· If you have a tow truck company can you park in front of Nick Clegg or David Cameron's driveway, accidentally? Could you tow their car away?
· If you clean the bathroom of someone that considers themselves elite or is an elite sympathiser, like a right wing professor, can you never put loo paper in their bathroom?
· If you work in a restaurant where elitists eat, can you serve the food once it is cold or cook the wrong food?
Eu tenho de me beliscar enquanto leio isto, para ter a certeza que não estou a imaginar. Mas este gajo não andou a ver o
Fight Club
a mais? É que muitos dos exemplos são muito parecidos.
Um pouco de google e encontramos a
sua conta de LinkedIn
. Espera lá...mas ele tirou um Mestrado na
London School of Economics
? Uma das mais prestigiadas e elitistas universidades do mundo?! Tendo na sua conta pessoal 18 prémios Nobel (entre os quais o famoso
Paul Krugman
) e 34 líderes mundiais...
entre os quais Saif al-Islam Gaddafi
(o filho de Kadafi)?
Ora isto não é o mesmo que um tipo ser monarca e gritar "morte ao rei!"? Acredito que "it takes one to know one" mas não será um pouco falso e estúpido invalidarmos o esforço de uns quantos remadores (elitistas pois) quando representamos uma instituição que deu refúgio a ditadores e formou uns quantos senhores muito responsáveis pela crise económica actual (e as que hão de vir)?
Depois do ocorrido a corrida recomeçou mas não desprovida de percalços. Os barcos choraram deixando Oxford com menos um remo. A corrida prosseguiu e Cambridge ganhou com mérito mas sem glória.
Um dos remadores de Oxford desmaiou e teve de ser socorrido logo após a meta, devido a esforço extremo e desidratação. 158 corridas passadas e Cambridge soma 81 contra 76 de Oxford.
Fica o aviso para o que poderá vir nos Jogos Olímpicos deste ano.