Foi isto que o secretário do Trabalho e Pensões, Iain Duncan, disse. Não exactamente isto mas adiante.
A bomba estalou quando ontem,
no programa da bbc radio 4 Today
, David Bennett (um ouvinte) perguntou ao secretário se, depois de todos os cortes que os
Tories
estão a aplicar nos subsídios, ele era capaz de viver com 53£ por semana. O Sr Duncan respondeu "Se tivesse de ser...conseguiria" ("If I had to, I would"). O que é bastante diferente daquilo que a opinião pública inglesa está a tentar passar. Que é que ele afirmou que conseguiria, ou que era "fácil" viver com 53£ por semana.
Esta história pareceu-me uma versão do "
ao aguenta, aguenta
" do Fernando Ulrich (Ultra Rich) mas à Inglesa.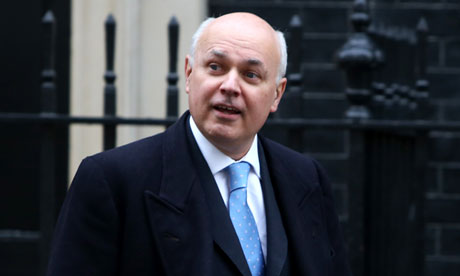 Entretanto, e só para mostrar que o povo inglês consegue ser tão bimbo como o Português, um jovem chamado Dom Arvesano criou uma
petição online
. Onde é pedido para o secretário viver com 57£ por semana.
E nela pode ler-se que o Sr Duncan vive com um ordenado de £1581 por semana.
É verdade que uma pessoa não deve de ser obrigado a viver com 53£ por semana. É por isso mesmo que se chama a isto um benefit (ou subsídio) e não um ordenado. Deve ser usado como uma ajuda e não como um modo de vida!
O Iain Duncan ganha mais de £1500 semanais pelo seu TRABALHO!
30 famílias no UK
recebem £1500 por semana
(apenas para ajuda de renda de casa) por não fazem NADA!
Onde é que existem uma petição contra isto?
O que é melhor para o contribuinte? 30 familias desempregadas a viver em Chelsea ou 30 Duncans?
Ouvindo a entrevista com atenção, para alem dos soundbytes, ficamos a saber que em 1/5 das famílias Inglesas ninguém trabalha! O jornalista diz a certa altura que o Sr David Bennett trabalhou duro durante todo o ano. Chegando a trabalhar 70 horas semanais. Que trabalhou o "máximo que podia" e ganhou apenas 2700 libras em 14 meses! Só podem estar a gozar. Alguém que lave pratos em Londres ganhar isso em menos de 4 meses. Das duas uma. Ou ele não quer fazer outros serviços (podera...se me pagassem a casa e ainda me dessem uma mesada fazia o mesmo) ou está a mentir. Muitas foram as reportagens que fizeram recentemente sobre a terra onde a taxa de desemprego era maior em todo o reino unido. E ao entrevistarem os habitantes dos blocos de council flats oferecidos pelo estado eles, desdentados de pijama e de cabelo pintado de vermelho, afirmavam que tentavam tudo mas que não existiam empregos. Para mais tarde o jornalista descobrir que existiam mais de 1000 empregos na cidade por preencher.
A certa altura o Sr Duncan diz, e muito bem,
"restructure the culture so that people, in essence, find that work always pays!"
Este é um problema grave do Uk. Demasiadas famílias onde nunca ninguém trabalhou e apenas vivem dos benefícios sociais à décadas! Portugal, como sempre, copiou o que via lá fora. Copiou o NHS e igualmente o welfare Inglês. E está a sofrer exactamente os mesmos problemas que existem aqui desde os anos 80! Se alguém tem casa paga pelo estado e ainda fica com dinheiro no bolso porque é que vai procurar emprego para receber menos, ter de trabalhar e ainda ter de pagar renda?
A solução está em aumentar os ordenados? Quem é que paga isso? A meu ver está em ensinar esta geração, que aprendeu que pode viver inteiramente dos restantes contribuintes, que "find work always pays".
Entretanto o revoltado comerciante/desentupidordecanos/motorista veio a
ser descoberto pelo DailyMail
como um jogador compulsivo. E que na sua conta de twitter diz gostar de futebol poker e cerveja. Sim, porque este senhor é um chumpista mas em 140 caracteres.